A career with WICS
The Water Industry Commission for Scotland (WICS) is a world-leading economic regulator of a service that's essential to life.
Through our work we are facilitating the transition to a sustainable future for Scotland's water and its customers, as the sector transitions to net zero emissions by 2040. We work for customers, communities and the environment.
When you join WICS you become part of a team of trusted experts, working at the forefront of innovative economic regulation both at home and internationally.
Our culture
As an organisation we are innovative, outward facing and flexible. This means that we, and those who work for us, are diverse thinkers who look for creative solutions and welcome ideas from outside.
We encourage employees to take responsibility and to grow in areas that are of interest and where they can excel.
Here at WICS, we do regulation differently. We encourage candour and transparency in all interactions between us as regulator, Scottish Water and other stakeholders.
Find out more about joining WICS as a graduate
Each year we recruit new graduates for our graduate programme. The programme offers a unique opportunity to work across a wide range of policy, analytical and regulatory areas.
We recruit on a regular basis throughout the year. Applications are currently closed.
Our training courses are provided by experts in the regulatory field and by those who are leading in the sector. There is also excellent on-the-job training – with opportunities to spend time working with and learning from other sector stakeholders, such as Scottish Water.
The nature of the work at WICS is highly varied, has a genuine impact and makes a real difference. With wide-ranging and collaborative projects both at home and abroad, each day brings new challenges and opportunities to develop.
In return we provide an exceptional experience that will develop and enrich you. When you join WICS you will be treated as a unique and valuable team member. With a culture of mentoring and support, you will find the people here as invested in your career as you are.
We welcome candidates with a diverse range of degree disciplines; however, a numerate based degree may be beneficial.
Our graduates are:
analytical problem solvers
curious
strong communicators
team players
adaptable.
Meet our graduates
Snezha Hristova recently joined our team as a graduate analyst. Working remotely she describes her experience as "a whirlwind from day one".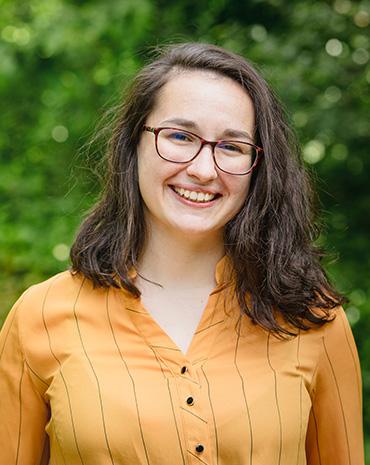 Hear from a former colleague
Lucy Pryde was a former analyst who went on to work at the Competition and Markets Authority (CMA).